Metal Roofing Services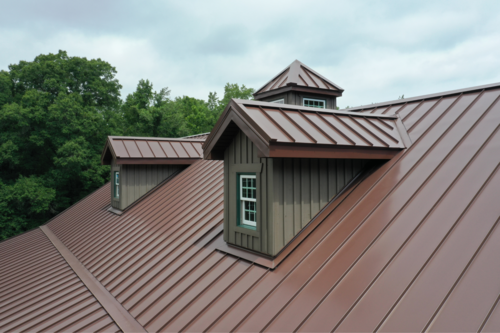 Is it time to replace your roof?
Upgrade your home or commercial property with the durability, longevity, and elegance of a metal roof. Top-quality metal roofing not only enhances the aesthetic appeal of your property but also provides superior protection against the elements.
Why Choose Metal Roofing?
Exceptional Durability: Metal roofs are known for their exceptional durability and longevity. They are designed to withstand harsh weather conditions, including heavy rain, snow, hail, and high winds. With proper installation and maintenance, a metal roof can last for several decades, outperforming traditional roofing materials.
Energy Efficiency: Metal roofing is energy-efficient, helping you reduce your energy consumption and lower your utility bills. Metal roofs reflect the sun's heat, preventing excessive heat absorption during hot summer months. They also provide excellent insulation, keeping your home comfortable.
Versatility and Aesthetic Appeal: Metal roofing offers a wide range of design options to complement any architectural style. Whether you prefer a sleek and modern look or a more traditional appearance, there's is a metal roofing option to suit your preferences. With a variety of colors, finishes, and profiles available, you can achieve a unique roof that enhances the overall beauty of your property.
Low Maintenance: Metal roofs require minimal maintenance compared to other roofing materials. They resist cracking, warping, and rotting, eliminating the need for frequent repairs. Metal roofs are also highly resistant to pests, such as insects and rodents, reducing the risk of damage and need for maintenance requirements.
Our Metal Roofing Services Include:
Installation
Repair
Maintenance
Replacement
Metal Roofing Provided by a Local Roofing Company in Ann Arbor
Whether you're looking to install a new metal roof, repair an existing one, or schedule routine maintenance, our team has the expertise and dedication to deliver outstanding results. Contact Wilderness Construction, a local roofing company in Ann Arbor, today at (734)429-0616 to schedule a consultation and take the first step toward a long-lasting metal roof for your home.